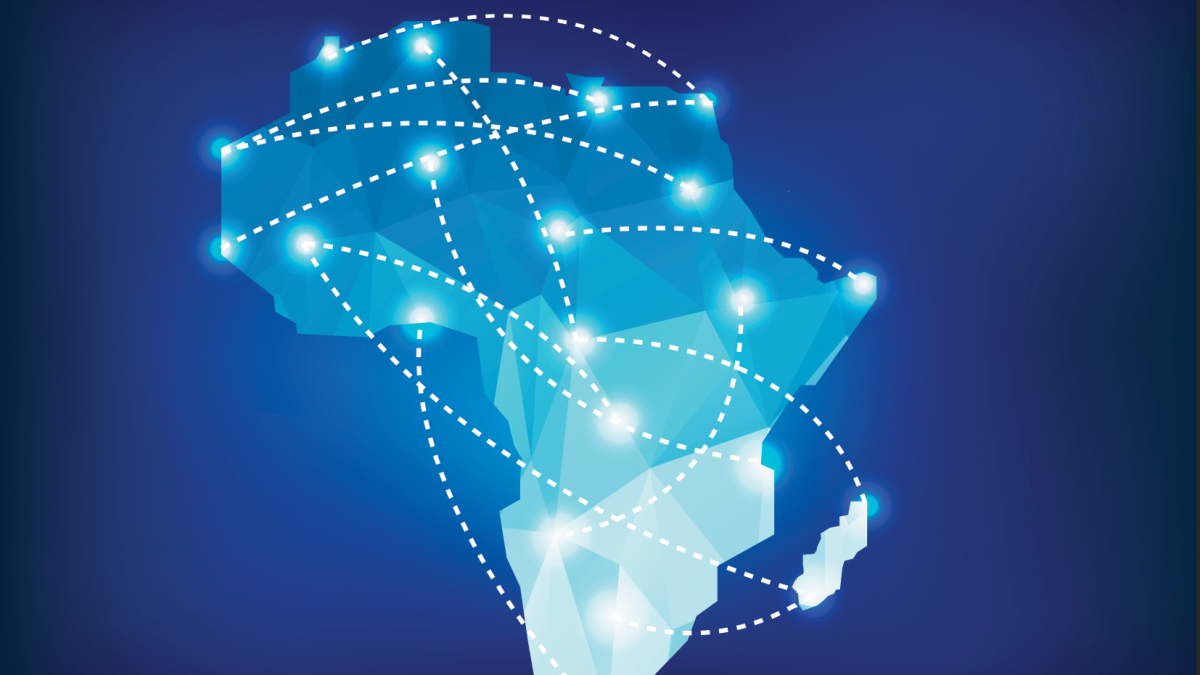 The digitisation of Africa
Reading Time:
4
minutes
Africa needs chameleon-like workers with a suite of digital and soft skills
Africa is a land of abundance. Across the continent there are copious natural resources, plenty of human capital, and extensive opportunities. But it is also a land of great need. Many people still lack basic services such as plumbing and sanitation, or electricity. Strive Masiyiwa, founder and executive chairman of global telecommunications company Econet, says, "Africa has huge opportunities because of its needs." He maintains that these unmet needs provide unprecedented scope for entrepreneurialism. Innovative solutions are possible today that were unheard of 20 or even 10 years ago. Why? Because of digitalisation.
Africa's "youth bulge"
Africa's youthful population can be considered either a vast resource or a massive problem, depending on your view. Compared to countries with an ageing population, the "youth bulge" represents economic opportunity on a large scale. However, broadly speaking, there is a significant gap between the skills needed for the future of the continent, and the skills currently imparted by education systems. Why? Because of digitalisation.
In the medium to long term, a seismic shift in educational priorities is necessary, to prepare the workforce of the future for the jobs of the future. According to Salah-Eddine Kandri, Global Sector Lead of Education at the IFC, only 50% of countries in Africa have any sort of computer skills as part of their school curriculum, compared to 85% of countries globally. This scenario is playing out against a context of 65% of job vacancies requiring at least basic digital skills.[1] Clearly this is not sustainable. Just as the youth bulge is an economic resource, it is also a social burden, given the high rates of youth unemployment across the continent. There are many factors that influence unemployment, particularly in sub-Saharan Africa, but lack of skills is a key element.
In the region, it is estimated that 230 million jobs will require digital skills by 2030, according to the Digital Skills in Sub-Saharan Africa report, published by the IFC.
Opportunities for professionals now
While we wait for school curricula to catch up with these changing needs, the continent is rife with opportunities for professionals, particularly in the digital field.
Skills required and in short supply vary from country to country and data on individual countries is hard to disaggregate. Inevitably, socio-economic, political and national factors contribute to local variances, but across the continent a common theme emerges: a need for professionals with digital and STEM skills who also have expertise in more traditional disciplines, such as engineering. An example of this type of combined skill set might be a digital-mechanical engineer or a business operations data analyst, according to the World Economic Forum.
As more and more commerce and service delivery is digitised, other skills needed include search engine optimisation (SEO) and digital marketing, to drive traffic in the online environment. Experience in artificial intelligence (AI) and Machine Learning, a subset of AI, is in demand across all industries, as AI's various applications become integral to an ever-widening range of jobs. Software development and project financial planning are also highly valued in many business activities and organisations.
MENA
If North Africa and the Middle East (MENA) is in your sights, there are shortages for data scientists and analysts, project managers and digital and cyber-security experts. Also in demand are IT security analysts, systems administrators, and accounting and finance professionals.
Middle East job portal bayt.com has produced a report, in conjunction with global public opinion and data company YouGov, entitled The Skills Gap in the Middle East and North Africa. It concludes that 4IR (also referred to as Industry 4.0), impacts on the skills employers need even in traditional industries such as petro-chemicals, clothing and food production. Manufacturing, once thought of as heavy industry that is highly manual, is being automated and digitised.
Automation is often blamed for destroying jobs, and it is true that many low-skilled positions have been or will be replaced by automation. However, it also opens up a new range of highly-skilled jobs. As these skills are still being developed, there is a severe shortage of qualified, competent workers to step into the data analysis, computer science and engineering roles required to make automation succeed.
Soft skills matter too
As we pointed out in The augmented worker: What skills are needed to navigate the future of work?, soft skills are as vital in the 4IR as hard, technical skills. Gerald Seegers, director of Human Resource Services at PwC Southern Africa, has said that "The gap between the skills of the current workforce and the skills businesses need to achieve their growth plans is widening. Despite rising business confidence equating to more jobs, organisations are struggling to find the right people to fill these positions." He stressed that the range of skills needed is much wider than it was in the past.
The World Economic Forum, in its Future of Jobs report, published in 2016, said that by 2020 (i.e. now!) the top 10 essential soft skills for the 4IR would be:
Complex problem solving
Critical thinking
Creativity
People management
Coordinating with others
Emotional intelligence
Judgement and decision making
Service orientation
Negotiation
Cognitive flexibility
Above all, emotional intelligence – or the combination of EQ and IQ dubbed the Agility Quotient, is a defining characteristic of the augmented worker.
The continent is your oyster
According to Gerald Seegers, "Gone are the days of life-time careers; chameleon-like employees who apply their skills whenever and wherever they're needed are now in high demand." This applies doubly to professionals, and nowhere more so than on the African continent.
Tags In